Installation, Clean Out and Jetting of Pits, Pipes and Tanks
Vacuum Excavation is an extremely effective method for the clean out of service pits and underground ducts. Vacuum Excavators remove the risk of damaging services and also allow works to be completed without putting personnel at risk, inside high risk areas such as confined spaces.
Our units ability to dig precise holes in almost any circumstance means our services are ideal for the installation of utility pits, soak well liners, tanks and pipework especially if there are underground utilities in the vicinity.
TerraVac's Vacuum Excavation units are able to jet and clean out electrical and communication pits and conduits, drainage (storm water, sumps, gully) pits and pipework, new sewer pits and pipework, valve mud from horizontal directional drillers pits without an operator needing to enter any confined space. Our units are able to remove materials wet or dry such as: sand grain, mud, ballast, mineral from storage bins, tanks hoppers etc. The spoils are transferred directly into the spoils tank of the unit meaning no mess onsite.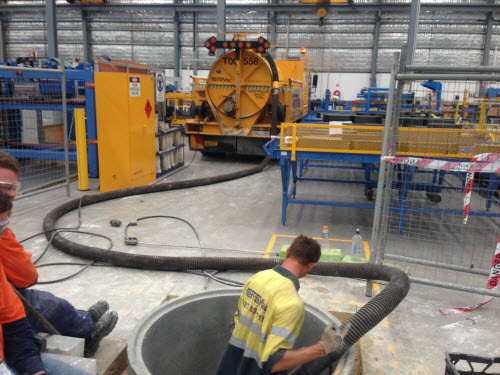 | | |
| --- | --- |
| Before | After |
| | |
| | |
| --- | --- |
| Before | After |
| | |